150th Anniversary of Barnegat Lighthouse
10-08-2008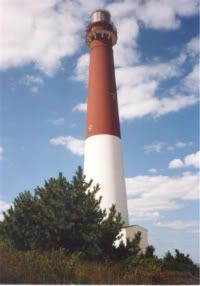 Barnegat Lighthouse
"Old Barney"
Photo Courtesy of Ocean County Department of Public Information
Old Barney Sesquicentennial Celebration
Saturday, October 11
150th Anniversary of Barnegat Lighthouse
Barnegat Light, NJ, October 7, 2008 – On Saturday, October 11, the public is invited to gather with state and local officials to celebrate the Barnegat Lighthouse's sesquicentennial anniversary. The event is free of charge. For 150 years, the lighthouse, in Barnegat Light, NJ, at the northern tip of Long Beach Island, has stood as a navigation safeguard for coastal vessels bound to and from New York and New Jersey ports.
WHO:

Local museum officials and government dignitaries will present a series of talks, concerts, exhibits and demonstrations to mark the celebration.

WHEN:

The celebration takes place throughout the day on Saturday, October 11. The Barnegat Lighthouse, the Lighthouse Interpretive Center and Barnegat Light Museum will be open from 11:00 a.m. to 5:00 p.m.

WHAT:

The event includes a presentation on bird watching at Barnegat Lighthouse at 11:00 a.m., followed by a bird watch walk in the park and bagpipe concert beginning at noon.

A talk on Lighthouses in New Jersey begins at 1:00 p.m., followed by a concert at 2:00 p.m. by the Southern Regional High School vocal ensemble and string ensemble, and then a talk on lighthouse Fresnel Lenses beginning at 3:00 p.m.

At 4:00 p.m. there will be a presentation by the United States Coast Guard, highlighted by a flyover by U.S. Coast Guard rescue aircraft and the U.S.C.G. Color Guard. Concluding the celebration, the Basement Musicians Guild Band will take the stage for a concert at 5:00 p.m.

Exhibits will be displayed by the Lighthouse Society of New Jersey, the U.S. Coast Guard Auxiliary, the New Jersey Maritime Museum, Tuckerton Seaport, the Alliance of a Living Ocean, the Marine Mammal Stranding Center and others.

WHERE:

Barnegat Lighthouse is situated at the northern tip of Long Beach Island, in Ocean County, NJ, and can be reached by taking the Garden State Parkway to exit 63. From Route 72 east, turn left onto Long Beach Blvd. and then left onto Broadway. The pa
[Back to Press Releases Main]