What Makes Italy Special?
06-20-2012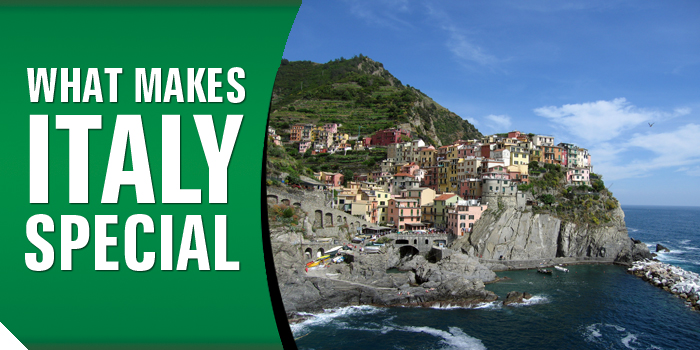 Of course, the answer is different for everyone, but it almost always has to do with its old-world traditions and wonderful culture; food and history; fashion and natural beauty. Even if you have already been lucky enough to visit, there are always reasons to return. Bella Italia, as many refer to it, is so diverse. You can simply do so much.

Revel in the magic of Rome and stand in the heart of the city at the Piazza Venezia. Pause for a moment and marvel at the ancient Colosseum. Cruise the romantic canals of Venice. See Michelangelo's David at the Academy Museum in Florence. Few other countries boast so many legendary cities.

There are also many charming hill towns and coastal villages that showcase Italy's amazing natural beauty. Travel the Tuscan and Umbrian countryside, exploring medieval villages. Discover Siena's narrow Gothic streets, magnificent palaces, and historic Piazza del Campo.

One cannot talk about any region of Italy without highlighting its mouth-watering cuisine. People come here from all over the world to indulge in the local flavors. Try a Tuscan antipasto – a platter of "crostini e salumi misti," small toasted bread with a variety of delicious toppings.

Italian vino, or wine, cannot be overlooked. Italy is the biggest wine producer and exporter in the world. You will find wineries almost everywhere, and families growing grapes and producing wines.

From the big cities to the small towns, there is always something exciting to see in Italy. With plenty of reasons to visit, the rest is up to you.